Need a keyboard? Click on the grand piano for shopping advice regarding Acoustic vs. Electronic pianos: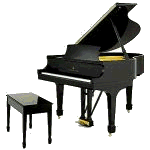 ---
Keyboard lessons are structured and notation based. I use the Faber Piano Adventures series for pre-schoolers through adults. It has 8 graded levels plus special supplements like Jazz, Pop, Rock, Hymns, Classics and Christmas.

At Holy Cross, I teach on a Yamaha P60 digital keyboard with 88 weighted, touch-sensitive keys plus damper pedal and 10 alternate sounds (like organ and harpsichord). The Classical Academy has a Casio Privia with full keyboard plus sustain pedal. The Franklin Recreation Complex has a full-sized Technics SX-P30 keyboard, and there's an 88-key Yamaha DGX model at the Brentwood Indoor Sports Complex.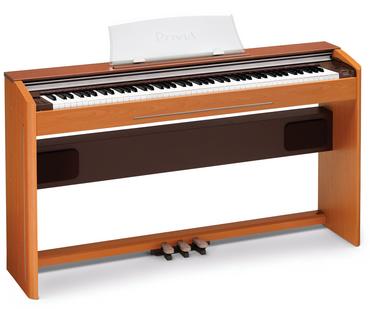 Everything we do in lessons can transfer directly to your acoustic piano at home.

LEFT: 88-key Casio Privia P-800 keyboard