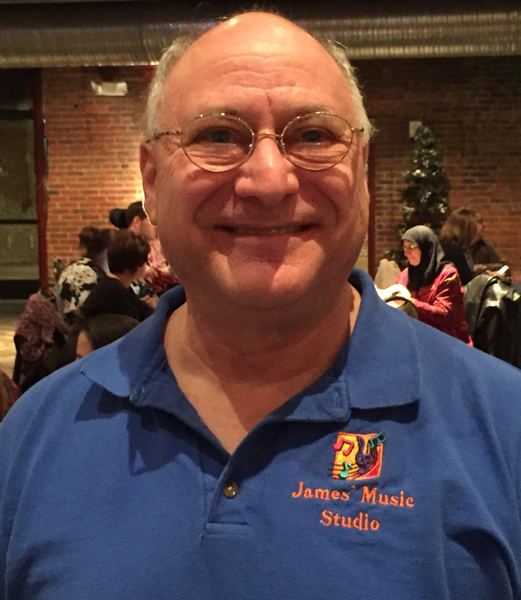 A Personal Sketch of James Weinberg, Music Teacher

I've worked for local churches of every major denomination as an accompanist, organist and choir director. Since 2006, I have been the organist at Holy Cross Anglican Church in Franklin.

My wife of 47 years, Carol, and I have two grown children, Benjamin and Rebecca, and a cat named Dinah. In our spare time, you can generally find us at home in Brentwood gardening and landscaping.
James' Music Studio, LLC is a sole proprietorship owned by James A. Weinberg and registered with the Tennessee Secretary of State as a Domestic Limited Liability Company. Articles of Organization are on file with the Williamson County Register of Deeds. Business office location: Brentwood TN
---
MAIN INDEX


A native of Rochester, New York, I began piano lessons at age 5 with my mother. Into my teens I studied at several prominent private studios including the famous Eastman School of Music. I also played brasswinds (trumpet and trombone) in school band. After high school, I entered SUNY Fredonia as an organ major, transferring to Stetson University in Deland FL. While raising a young family, I entered Peabody Teacher's College in Nashville. Later I trained as a Navy broadcast journalist, and once a civilian again, I spent five years as a classical radio announcer & producer at WPLN.

In 1985, I completed a bachelor's degree in church music at Belmont University (cum laude) and returned for a master's in music education, conferred in 1991. The area of emphasis for my M.M.E. degree was Elementary/Primary Pedagogical Methodology (translation: how to teach music to kids in K-8). My internship was at Montessori Academy in Brentwood teaching preschool through 6th grade. From 2000-2007 I was a staff instructor in piano and organ at Belmont Academy, as well as a vocal coach. Then in 2008 I launched my own business--James' Music Studio--based in my church. Later I expanded to The Classical Academy and Williamson County Parks & Recreation. Nowadays, I strive to be the best piano teacher in Williamson County!




Mr. James is listed in the


More about James: